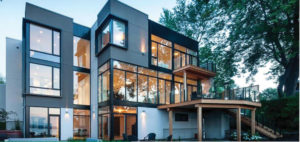 The intelligent concept, Evolution Slide 76SF:
The SF system achieves exceptional features as the most versatile product suitable for sliding doors and windows.
Description

Salamander Evolution Slide 76 SF
Based on a 76 mm frame construction depth, the slim design impresses with its contemporary design. Making it ideal for any placement-coexistence with all the Streamline Series joinings and glazing profiles.
The minimum visible cross-sectional width allows the design of large glazing surfaces. Creating spaces that are distinguished by simplicity, naturalness and an exceptionally pleasant environment.
Excellent is the variety of colors available, allowing and giving freedom to space design and absolute harmony with any architectural style.
Characteristics:
〉Frame thickness: 76 mm.
〉Sheet thickness: 76 mm.
〉The thermal transmittance coefficient is calculated as U w = at 1.6 W / (m²K).
〉Glass panes up to 28 mm.
Color Shades of Frames